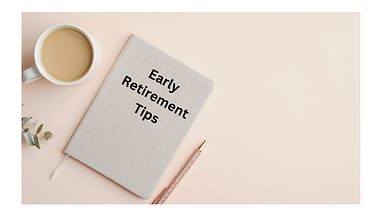 Retirement may be around the corner or far off.  And depending on your day, you may think you will never retire because of your love of nursing.  Regardless of where you are in your career, if early retirement is your goal, you may face challenges in your planning.  In this blog post, you will explore common retirement misconceptions.  You will also learn early retirement tips to help you plan for your future.
Common Early Retirement Misconceptions
Retirement misconceptions can lead to unrealistic expectations and poor planning.  Retired family and friends often share their experiences which may convince you early retirement is impossible.  To help you plan, here are some common retirement misconceptions:
Delaying Retirement Planning.  Many people assume they can retire early by delaying their planning.  The challenge is this may lead to delays in saving for retirement.  And while you may think you will save a little extra each year to catch up, this misconception may interfere with your plan to retire early.  Saving early can help make a big difference in the size of your retirement savings.
You'll need to live below your means.   While it's true that early retirement requires careful budgeting and planning, it doesn't necessarily mean that you'll have to live a frugal lifestyle. Sound planning and investing, can help you retire early and still enjoy a comfortable lifestyle.
You won't have health insurance.  Retiring early can cause you to lose your employer health insurance, but other choices are available.  You can buy health insurance through the Health Insurance Marketplace. You can also consider buying health insurance from a private insurer.  Examples of private insurers that offer health insurance include Aetna and United Healthcare.  You will also become eligible for Medicare at age 65 or sooner if you are disabled.
Early retirement will be wonderful.  Early retirement can be a great opportunity to follow your passions and enjoy life.  But you may face challenges such as boredom, loneliness, or a lack of purpose. It's important to have a plan for how you'll spend your time in retirement.
Your financial worries are over.  Retirement plans need careful planning and budgeting to help ensure you won't outlive your money.  This includes the plan to retire early.  Inflation, down markets, and unexpected expenses may impact your plan.
You'll run out of money. While it's true that retiring early can increase the risk of running out of money, it's not certain. With careful planning and investing, you can strive to create a retirement income that will last throughout your retirement.
You won't have enough money to travel.  Travel can be a major expense in retirement, but it's still possible to travel on a budget.  Second Wind Movement offers many ideas for budget travel link to.  Some budget travel tips include booking in advance, traveling during off-seasons, or staying with friends and family.
You can't take a long break. Many people assume early retirement means they can never work again. However, you can still work part-time or try a new career in retirement. The key is to find a balance between work and leisure that works for you.
Early Retirement Tips
With the misconceptions behind us, let's explore some early retirement tips to help you plan.
Stay Healthy.  Staying healthy is essential to enjoying retirement at any age.  Good health can also help reduce your medical costs.  Nurses know prevention is best and cheaper!  Consider exercising regularly, eating healthy, and getting enough sleep.
Plan early. About five years before you plan to retire, start imagining what you want your retirement lifestyle to look like.  This will give you time to adjust to the idea of retirement and plan for changes to come.
Explore new hobbies.  Exploring new hobbies can help you find interests and passion to help give you sense a purpose in retirement.  Before you retire, consider trying something you've always wanted to do, such as painting, playing golf, or taking guitar lessons.  This will help you plan activities you enjoy and how much you'll need to budget for your hobbies.
Find new friends.  Retirement can be a lonely time, especially if you're used to socializing with coworkers. It's important to replace those social connections lost in the workplace and find new friends. Consider joining a club or group that shares your interests.  You may also want to consider volunteering for a cause you believe in.
Plan new routines.  As you approach early retirement, create a plan for your new routines.  Having a set wake-up time, routine activities, and mealtimes can help you transition to retirement.
Consider a retirement coach.  Retirement coaches can help you navigate the emotional and mental challenges of retirement.  A retirement coach can help you find meaning and purpose.
Conclusion
Early retirement may be a dream, but these tips can help you make it a reality.    Listen to the experiences of others to learn.  But try not to let their stories discourage you from your goal to retire early.  Consider these common early retirement misconceptions and apply them to your situation.  Retirement plans are unique to each person.  These early retirement tips can help you with your plan and make your dream come true.
Want to learn if you are ready for retirement?  Take the Retirement Readiness Assessment.
Ready to take control of your finances?  Contact me.
Upon clicking these links, the content you are going to is not controlled, reviewed or approved by, and is not the responsibility of, the website that you are leaving. Entities referenced are not affiliates of the companies of OneAmerica® unless otherwise noted.

Georgene Collins, RICP®, RN, PhD, MBA is a registered nurse turned Financial Advisor at Airey Financial Group. Georgene helps other nurses take control of their finances and prepare for retirement. Georgene began her career with Airey Financial Group in 2017 after retiring from 30 years in healthcare.
Georgene holds the Retirement Income Certified Professional (RICP®) designation from The American College of Financial Services. She holds health and life insurance licenses and a long-term care certificate in Indiana and Illinois. Georgene is a Registered Representative and Investment Advisor Representative and has earned the FINRA Series 63 and 65 registrations.