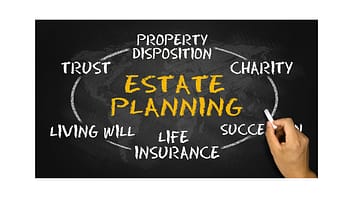 As a nurse, you work hard to ensure your patients receive the best possible care. And your care is equally important.  Your financial plan is one area of care nurses may overlook.  And while your finances may cover you while you are alive, have you thought what will happen to your plan when you pass away?  An estate plan can help protect your assets and leave a legacy when you die.  Estate planning is an important part of your financial plan.  Although difficult, it's never too early to start your estate planning. In this blog post, we'll discuss what estate planning is and why it's important to nurses.
What is Estate Planning?
Estate planning is the process of preparing for the transfer of your assets and property after you pass away. This can include your home, car, bank accounts, investments and personal items like jewelry and family heirlooms.  Estate planning can also include caring for your dependents and your personal care if you become incapacitated.  The goal of estate planning aims to ensure your assets are distributed according to your wishes and your loved ones are cared for after you're gone.  Estate planning involves creating legal documents such as wills, trusts, and powers of attorney.
Why is Estate Planning Important?
Estate planning is important for nurses for many reasons.  First, it allows you to have control over what happens to your assets after you pass away. Without an estate plan, state law will dictate distribution of your assets.  An estate plan can also help ensure your beneficiaries receive your assets per your wishes.  This can help reduce conflict among family members.
Second, estate planning can help minimize taxes and other expenses that can eat away at your estate. Estate planning can help reduce taxes by employing effective estate and tax strategies such as:
Marital transfers help you avoid estate taxes when one spouse dies.
Lifetime gifts of assets to your children and grandchildren can help reduce your taxable amount.
Marital trusts can help reduce estate taxes by allowing you to transfer assets to your spouse tax-free.
Irrevocable trusts shift assets out of your taxable estate to help reduce your potential future tax burden.
Third, an estate plan can help with your long-term care planning.  Nurses know firsthand the costs of long
-term care, such as a nursing home. The U.S. Government estimates nearly 70% of people turning 65 will need long-term care in their lifetime.  An estate plan can help you cover your healthcare costs such as long-term care insurance or an annuity.  This can help preserve your assets for your loved ones.
Next, an estate plan can include instructions for your healthcare decisions.  Nurses know the importance of advance healthcare directives, such as a living will or power of attorney, to honor patient's wishes.  These legal documents can also help reduce the burden of difficult decisions on family members.
Finally, estate planning can offer peace of mind for you and your family.  A comprehensive estate plan can help rest assure your affairs are in order and your loved ones will be taken care of.  This can help you focus on your career and enjoy retirement.
Conclusion
Estate planning is an important part of a financial plan.  It's never too early to create an estate plan.  An estate plan aims to help you protect your assets and loved ones when you pass away.  An estate plan can help you cover the cost of long-term care, ensure your healthcare wishes are carried out, and provide peace of mind for you and your family.  When you are ready, consider speaking with your Financial Advisor to refer you to an estate planning attorney in your state to avoid common mistakes.
This information is not intended to be used – and cannot be used – to avoid penalties under the Internal Revenue Code. Upon clicking these links, the content you are going to is not controlled, reviewed or approved by, and is not the responsibility of, the website that you are leaving.
Want to learn if you are ready for retirement?  Take the Retirement Readiness Assessment.
Ready to take control of your finances?  Contact me.

Georgene Collins, RICP®, RN, PhD, MBA is a registered nurse turned Financial Advisor at Airey Financial Group. Georgene helps other nurses take control of their finances and prepare for retirement. Georgene began her career with Airey Financial Group in 2017 after retiring from 30 years in healthcare.
Georgene holds the Retirement Income Certified Professional (RICP®) designation from The American College of Financial Services. She holds health and life insurance licenses and a long-term care certificate in Indiana and Illinois. Georgene is a Registered Representative and Investment Advisor Representative and has earned the FINRA Series 63 and 65 registrations.