Introduction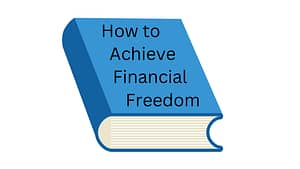 Achieving financial freedom is a dream of many people. While it may seem overwhelming, there are many ways to do this.  In fact, you may have already earned at least a million dollars as a nurse.  And your goal may be closer than you think.  In this article, we'll explore ways to achieve financial freedom to move you closer to achieving this financial milestone!
Ways to Achieve Financial Freedom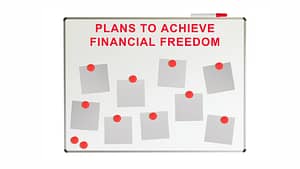 Before we explore ways for you to achieve financial freedom, let's review nurses' salaries.  Regardless of where you are in your nursing career, you may have already earned a million dollars or are well on your way.  Let's explore this.  According to the Bureau of Labor Statistics as of September 6, 2023, the median annual wage for registered nurses in 2022 was $81,220.  This means that a full-time registered nurse can earn $1,000,000 every 12.3 years.  If your career spans 30 years, you could earn $2,436,600!  And that doesn't include raises or overtime or bonuses.  These numbers show a true potential in earning power for a registered nurse.  Now that you know you have the earning potential, let's explore ways to achieve financial freedom.
Set Clear Goals
The first step towards achieving financial freedom is setting clear and specific goals. Clear financial goals will give you a roadmap to guide you.  Many people set a goal to earn more without a clear purpose.  When you set your goal, consider what your money will do for you.  And remember to use the SMART format-specific, measurable, achievable, realistic, and with a deadline (time).
Create a Budget
Once you know your goals, the next step is to create a budget.  A budget helps you see how you use your income.  Also, a sound budget outlines your income and expenses.  Consider using the 50/30/20 rule to guide your budget.  The rule suggests using 50% of your income towards living expenses, 30% towards discretionary spending, and saving or paying off debt with the other 20%.  Let's explore paying off debt next.
Pay Off Debt
It's no surprise that debt costs money.  Lenders and credit card companies make their profits by charging you interest and fees.  If you carry debt, you are paying more for items than if you paid cash.  And if you are late on your payments, you pay extra for the items in penalty fees.  Consider paying off your debt in full.  This will help you save on interest and fees and have more money to achieve your financial goals.
Save Money
One important way to achieve financial freedom is to save consistently and wisely.  There are several savings accounts to consider to help you reach your goals.  First, consider an emergency fund.  Life has a way of sending unexpected events our way, usually when we least expect them.  And these events usually cost money.  An emergency fund of three to six months' living expenses can help you navigate the cost of expected events.  But shop around for a suitable account.  Consider an account that pays interest, has no fees, and allows you quick access to your money.  Often a high-yield savings account offers these features.
The next savings account to consider is for short-term goals.  For example, saving for a vacation or the down payment of a house.  Consider keeping this savings account separate from your emergency fund.
Consider Investing
Investing aims to help grow your money.  Consider investing in a retirement account, like a 401(k) or 403(b).  These employer-sponsored accounts allow you to save money for your retirement with pre-tax dollars.  Meaning you don't pay taxes until you withdraw the money, typically in retirement.  And many employers will match your contribution.  This is free money to you.  But investing carries risks and it is important to be well-informed throughout your investment journey.  Consider speaking with a Financial Advisor to help you decide if investing aligns with your financial goals.
Keep Learning
As in nursing, keep learning.  Learn as much as you can about money and how to use it to achieve financial freedom.  Consider the best learning strategy for you.  Whether it's seminars, books, podcasts, financial blogs, or a combination of many sources, keep learning from credible sources you can trust to help you meet your financial goals.
Conclusion
Achieving financial freedom doesn't happen overnight.  It requires careful planning, dedication, and a commitment to financial growth.  Nurses are in a good position to reach their financial goals because of their income.  But financial freedom isn't about how much you make.  It's about how much you save and when suitable, invest.  By setting clear goals, budgeting, saving, and investing wisely, you can work towards achieving your goals.
Want to learn if you are ready for retirement?  Take the Retirement Readiness Assessment.
Ready to take control of your finances?  Contact me.

Georgene Collins, RICP®, RN, PhD, MBA is a registered nurse turned Financial Advisor at Airey Financial Group. Georgene helps other nurses take control of their finances and prepare for retirement. Georgene began her career with Airey Financial Group in 2017 after retiring from 30 years in healthcare.
Georgene holds the Retirement Income Certified Professional (RICP®) designation from The American College of Financial Services. She holds health and life insurance licenses and a long-term care certificate in Indiana and Illinois. Georgene is a Registered Representative and Investment Advisor Representative and has earned the FINRA Series 63 and 65 registrations.