Long-term care can be expensive.  Paying for long-term care can become a financial burden on families Nurses understand the importance of planning.  And considering long-term care costs is an important part of a retirement plan.  In this blog post, you'll learn ways to pay for care in retirement and how long-term care protection can help preserve your savings and give you quality choices.
What is Long-Term Care?
As a nurse, you know long-term care helps patients who can no longer perform activities of daily living.  Long-term care may include help with toileting, feeding, bathing, ambulation, transferring, and dressing.  Patients may need temporary or lifetime help.  Many of us think we won't need to plan for long-term care.  But according to the U.S. government as of February 18, 2020, nearly 70% of people 65 and over will need long-term care in their life.
Most people think long-term care is given in a nursing home.  But a nursing home is only one long-term care setting.  Other long-term care settings include:
A patient's home
Adult Day Care
Assisted Living
How Much Does Long-Term Care Cost?
According to Genworth, the cost of a nursing home semi-private room was $94,900 for 2021.  This cost was from Genworth's most recent survey.  Nurses know the cost of care increases every year.  According to Genworth, the cost of a semi-private room in a nursing home rose nearly 2% each year from 2017 to 2021.  And the costs are expected to continue to rise among all settings.
How Long Would I Need Long-Term Care?
The duration someone needs long-term care varies.  For retirement planning purposes Financial Advisors use gender to estimate the time and money someone may need long-term care.  According to the U.S. Government, men typically need long-term care on average of 2.2 years.   Statistically women outlive men and the length of time needed for their long-term care is estimated at 3.7 years.  According to 2020 statistics, roughly 20% of adults will need care for 5 years or longer.
Paying for Long-term Care
Although these statistics may feel overwhelming, they help with retirement planning.  Hopefully, you are part of the 30% who will not need long-term care.  Since we include all risks in a retirement plan, it is better to consider the need for long-term care.  Let's explore ways to pay for long-term care.
Government health care programs: Medicare and Medicaid are the most common payment methods for nursing homes. Medicare pays for the first 100 days of skilled care immediately after an inpatient stay.  Medicaid pays for long-term custodial care.  The challenge with Medicaid is that you must impoverish yourself to qualify.  In other words, you must delete all your assets to a low level to qualify for Medicaid.  The states fund and oversee Medicaid.  To qualify for Medicaid in Indiana in 2023 your assets can be no more than $2000.  And your income must be less than $2742 a month for a single person.  The limits change for spouses, but only slightly.  And while Medicaid covers some community care, its focus is the nursing home.
Private pay options: Personal savings, or out-of-pocket payments, are the primary way retirees fund long-term care.  Retirees may need to surrender their retirement account like a 401k or 403b to pay for care.  Others may need to sell their home or take out a reverse mortgage.  
Family Support:  If an elderly loved one hasn't saved or planned, family members may need to help pay for long-term care.  Consider these 2020 statistics from A Place for Mom:
An estimated 17% or 41.8 million Americans cared for an adult in 2020
Of those, 89% cared for family or a loved one
Three-fourths of unpaid caregivers are women with an average age of 50.1 years
Care lasted 4.5 years on average
Unpaid cost of care was $470 billion
AARP estimated the cost at over $600 billion in 2021 shared among 38 million caregivers.  These alarming statistics show the overwhelming burden on family and friends when someone cannot afford long-term care.
Annuity Products:  Annuities may be a sound investment choice, especially for those concerned about outliving their savings. Annuities can help provide guaranteed income to pay for long-term care.  You can buy an annuity product to help with long-term care costs by adding a rider to your contract.  This annuity helps give you income and long-term care coverage.
Long-term care Insurance:   Long-term care insurance helps pay for the cost of care unrelated to
Medicare, Medicaid, or health insurance.  Long-term care insurance helps pay for home care, adult day care, assisted living, and nursing homes.  Some long-term care policies cover non-skilled help like a companion, housekeeper, or live-in caregiver.
Long-term care insurance can help protect your assets by covering the high costs of care, and it can help reduce the financial and emotional stress on your family that may arise from having to provide or pay for long-term care.
What Types of Long-term Care Protection are Available?
Long-term care protection generally come in two ways.  Traditional and hybrid.  Let's explore the differences.
Traditional Long-Term Care Insurance Policies
Traditional long-term care insurance policies provide coverage for expenses, such as nursing home care, home health care, and assisted living facilities.  These policies typically have lower premiums at first but may increase over time because of rate increases.  Traditional Long-term care protection policies are "use or lose".  In other words, you lose any unused long-term care benefits with no return of premium.
Traditional policies usually reimburse you for care.  This means you pay for care, submit a claim, and the insurance company reimburses you according to the terms of your policy.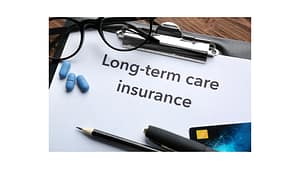 Hybrid Long-Term Care Protection
Hybrid long-term care protection is asset based long-term care.  The long-term coverage is linked to an asset, like whole life insurance or an annuity.  Long-term care protection can also help with your estate plan.  Because any unused benefits are applied to your death benefit leaving a financial legacy for your loved ones.  Also, some policies cover shared care.  A shared care long-term insurance policy covers two people, possibly unrelated.  This policy shares benefits, reduces costs, and can help insure unhealthy individuals.
Conclusion
A sound retirement plan considers paying for long-term care.  The cost of care is expected to increase every year.  Nearly 70% of adults over 65 will need long-term care at some point in their lives.  Consider talking with a Financial Advisor or insurance professional to help you evaluate the costs, benefits, and pros and cons of long-term care protection and other financial strategies to see how they can fit into your overall retirement plan.
Want to learn if you are ready for retirement?  Take the Retirement Readiness Assessment.
Ready to take control of your finances?  Contact me.
These concepts were derived under current laws and regulations. Changes in the law or regulations may affect the information provided. Upon clicking these links, the content you are going to is not controlled, reviewed or approved by, and is not the responsibility of, the website that you are leaving.

Georgene Collins, RICP®, RN, PhD, MBA is a registered nurse turned Financial Advisor at Airey Financial Group. Georgene helps other nurses take control of their finances and prepare for retirement. Georgene began her career with Airey Financial Group in 2017 after retiring from 30 years in healthcare.
Georgene holds the Retirement Income Certified Professional (RICP®) designation from The American College of Financial Services. She holds health and life insurance licenses and a long-term care certificate in Indiana and Illinois. Georgene is a Registered Representative and Investment Advisor Representative and has earned the FINRA Series 63 and 65 registrations.