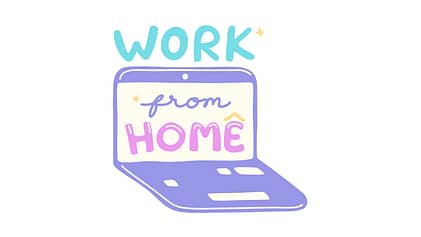 Retirement doesn't mean the end of a nursing career.  Many retired nurses choose to continue working in some capacity.  Some work for extra retirement income.  Others work to stay active and engaged.   Fortunately, there are many nursing work from home jobs available in retirement.  Read on to explore how nursing work from home jobs may help you meet your retirement goals.
What is Nursing Work from Home?
Nursing work from home is essentially a remote job.  And there are many jobs nurses can do remotely from the comfort of your home.  Typically, all you need to do remote work is a computer, phone, and Internet connection.
Types of Nursing Work from Home Jobs
There are many opportunities for nurses to work from home.  Here are some examples.
Telehealth Nurse
Medical Record Reviewer
NCLEX Prep Tutor
Utilization Management Nurse
Nurse Recruiter
Clinical Research Nurse Navigator
Clinical Content Specialist
Advantages of Nursing Work from Home
There are many advantages to doing nursing work from home in retirement.  One huge advantage is the income potential.  Additional income can be used to supplement your social security benefits and retirement savings.
Another advantage is flexibility over your schedule.  This allows you the opportunity to enjoy your retirement and achieve work-life balance.  Something you may not have experienced as a bedside nurse.
Doing nursing work from home also allows you to reach a larger group of patients, in underserved areas, for example.  And working remotely allows you the opportunity to use your nursing expertise and learn new skills.
Challenges of Nursing Work from Home
One of the biggest challenges with remote work is technology.  You most likely will need a computer, Internet connection, and a phone to do your nursing work from home.  If you are not comfortable with computers, working from home in retirement is a great time to learn a new skill!  You may want to take some computer classes before applying for a remote job.  LinkedIn Learning or Udemy offer many computer courses.
Another challenge to working remotely is isolation.  Working remotely may limit your interaction with colleagues.  A suggestion is to look for ways to balance work with social activities like volunteering, joining a local senior social center, or taking a class at a local gym.
Finding Nursing Work from Home Jobs
There are many opportunities to find work from home nursing jobs.  One way is to explore reputable job websites and platforms that specialize in remote nursing jobs such as Indeed, Zip Recruiter, or LinkedIn.
Networking is another way to find remote jobs for nurses.  A suggestion is to join remote nurse groups on Facebook and LinkedIn.  You may find leads on remote job opportunities and support from other nurses.
Another way to find remote nursing jobs is to research healthcare providers: Many healthcare organizations now offer remote nursing positions.  Explore their websites, contact their human resources departments, and inquire about available remote opportunities.
What to Consider Before Applying for Remote Nursing Jobs in Retirement
One of the most important considerations before applying for a remote nursing job in retirement is to understand your Social Security claiming strategy and how additional income may impact it.  Check with the Social Security office or your Financial Advisor to find out how much extra income you can earn to avoid penalties.
Once you find a remote nursing job you are interested in, consider updating your resume.  Tailor your resume to highlight important skills and experiences that relate to the job description of the company you plan to apply to.  Emphasize your ability to work independently, utilize technology, and effectively communicate in virtual environments.  List any courses or certifications that relate to the job.
Finally, as a professional courtesy, remember to contact your references before applying.  Get in touch with colleagues before you apply and ask them if you can list them as a reference.  Let them know the name of the company and find out the best way to reach them.
Retirement doesn't mean the end of a fulfilling nursing career.  Nursing work from home jobs are a viable and flexible career option for retirees.   With the increasing availability of remote jobs, retired nurses can continue contributing to healthcare while enjoying flexibility and independence.  By leveraging online platforms, networking, and showcasing your skills, you can find rewarding remote opportunities that align with your interests and retirement goals. Embracing a nursing work from home job in retirement allows you a rewarding balance between staying active in the healthcare industry and enjoying the benefits of a flexible lifestyle.
Want to learn if you are ready for retirement?  Take the Retirement Readiness Assessment.
Ready to take control of your finances?  Contact me.

Georgene Collins, RICP®, RN, PhD, MBA is a registered nurse turned Financial Advisor at Airey Financial Group. Georgene helps other nurses take control of their finances and prepare for retirement. Georgene began her career with Airey Financial Group in 2017 after retiring from 30 years in healthcare.
Georgene holds the Retirement Income Certified Professional (RICP®) designation from The American College of Financial Services. She holds health and life insurance licenses and a long-term care certificate in Indiana and Illinois. Georgene is a Registered Representative and Investment Advisor Representative and has earned the FINRA Series 63 and 65 registrations.